SBrick Light
Make everything more beautiful with SBrick Light! Select which colour and model you want below!
$79.00
SBrick Light is the newest member of the SBrick family and definitely the brightest! It's a lighting solution that makes LEGO sets more beautiful! It's also a great choice for hobbyists and people who like making art projects!
Easy to use, simply connect strands of LEDs to SBrick Light, pick the color and the brightness, and create the perfect lightshow to match your creations. Each strand can be a different color! From buildings to trains, from large MOCs to permanent displays, make them shine with SBrick Light!
SBrick Light works out-of-the-box with our free app. The only thing you will need are batteries – 3 x AAA batteries – or you can plug it in to the wall using our power supply. That's especially useful if you want to light something up for long periods – you'll always be able to connect to your SBrick Light this way.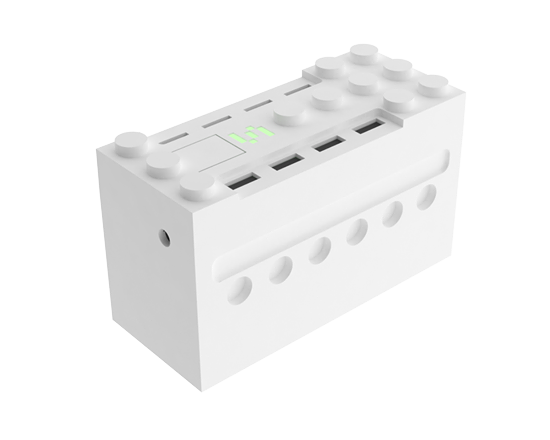 This pack contains:
1 SBrick Light Hub
1 Power supply
8 White LEDs
SBrick Light is also available in two different packs. They're great value and will help you get started in lighting your LEGO creations. One pack contains 8 White LEDs and is ideally suited for smaller models, while the large pack contains everything you need to start lighting bigger and more beautiful MOCs!
1 SBrick Light Hub
1 Power supply
16 White LEDs
8 RGB LEDs
4 Extension cables
4 Replicators
4 Splitters
Light up your life with SBrick Light!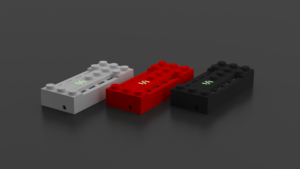 SBrick Light has been to designed to be easy to use.
On top, Sbrick Light has two rows of 4 connectors, to which you can attach strands of LEDs, giving you incredible options when it comes to lighting your creations.
SBrick Light is small enough to place inside trains, and you can use it in other vehicles as well; the batteries will run the lights for hours, and the Bluetooth connection means you can change the color scenes using your smart device.
You can store those color scene settings on the SBrick Light itself, so you can still use the SBrick Light even if you have no smart device at hand. Changing between settings is as simple as pressing the soft button (our logo) on the top of the Light!
Connect 8 different strands of RGB LEDs, or white LEDs.
Set each strand to a different color or pattern with our app
SBrick Light will remember the patterns you've used; use the soft button to cycle between them!
Works with all LEGO sets. Add SBrick Light and make every set more beautiful – it's the perfect gift for someone who loves LEGO!
It's also a great gift idea for those who like making art projects for the home. SBrick Light works just as well for these projects as if a hobbyist wants to make something shine, SBrick Light will get the job done!
Strands can be set-up how any way you want, and to create unique strands you will combine these four different parts.
LED cable, with either 1 RGB or 1 white LED
Splitter; lets you connect 3 different white LEDs, each of which you can control independently, instead of one RGB led
Replicator; turns one RGB signal into 3 RGB outputs, making it perfect for indicators in cars.
Extension cables; so you can light up anything!